Opening Night Fan Event-Star Wars: The Last Jedi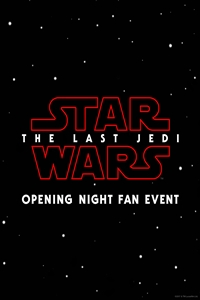 Release Date:
December 14th, 2017
MPAA Rating:
PG-13
Runtime:
2 hr. 35 min.
Genres:
SciFi/Fantasy, Program
Director:
Rian Johnson
Cast:
Daisy Ridley, John Boyega, Adam Driver, Oscar Isaac
Synopsis Be among the first to see Star Wars: The Last Jedi at the 6pm Opening Night Fan Event. Fans will be treated with
exclusive content, collectible cards, and a special concession offer.