Can You Ever Forgive Me?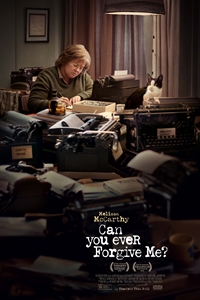 Release Date:
October 19th, 2018
MPAA Rating:
R
Runtime not available
Genres:
Comedy, Drama
Director:
Marielle Heller
Cast:
Julie Ann Emery, Melissa McCarthy, Jennifer Westfeldt, Christian Navarro
Synopsis CAN YOU EVER FORGIVE ME? is the true story of best-selling celebrity biographer (and friend to cats) Lee Israel (Melissa McCarthy) who made her living in the 1970's and 80's profiling the likes of Katharine Hepburn, Tallulah Bankhead, Estee Lauder and journalist Dorothy Kilgallen. When Lee is no longer able to get published because she has fallen out of step with current tastes, she turns her art form to deception, abetted by her loyal friend Jack.