Baby Driver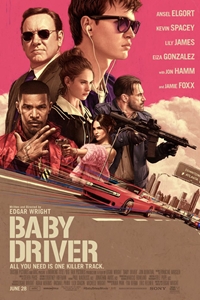 View Trailer
Release Date:
June 28th, 2017
MPAA Rating:
R
Runtime:
1 hr. 53 min.
Genres:
Action/Adventure, Comedy
Director:
Edgar Wright
Cast:
Ansel Elgort, Kevin Spacey, Lily James, Jon Bernthal
Synopsis A talented, young getaway driver relies on the beat of his personal soundtrack to be the best in the game. When he meets the girl of his dreams, Baby sees a chance to ditch his criminal life and make a clean getaway. But after being coerced into working for a crime boss (Kevin Spacey), he must face the music when a doomed heist threatens his life, love and freedom.