The Emoji Movie 3D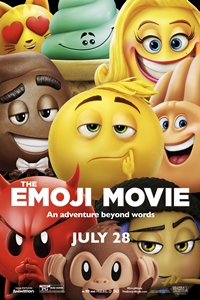 View Trailer
Release Date:
July 28th, 2017
MPAA Rating:
PG
Runtime not available
Genres:
Animation, Comedy
Director:
Anthony Leondis
Cast:
Anna Faris, T.J. Miller, Sofía Vergara, Patrick Stewart
Synopsis Hidden within the messaging app is Textopolis, a bustling city where all your favorite emojis live, hoping to be selected by the phone's user. In this world, each emoji has only one facial expression - except for Gene, an exuberant emoji who was born without a filter and is bursting with multiple expressions. Determined to become "normal" like the other emojis, Gene enlists the help of his handy best friend Hi-5 and the notorious code breaker emoji Jailbreak. Together, they embark on an epic "app-venture" through the apps on the phone, each its own wild and fun world, to find the Code that will fix Gene. But when a greater danger threatens the phone, the fate of all emojis depends on these three unlikely friends who must save their world before it's deleted forever.
TRANSFORMERS: THE LAST KNIGHT
COLLECTIBLE TIN BUCKET - $9
FREE REFILLS WHILE TRANSFORMERS: THE LAST KNIGHT IS PLAYING AT ST. MICHAEL CINEMA!