David Gilmour: Live At Pompeii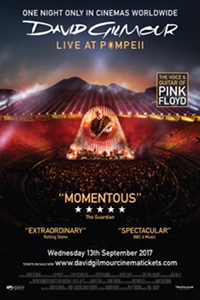 View Trailer
Release Date:
September 13th, 2017
MPAA Rating:
PG-13
Runtime:
2 hr. 0 min.
Genres:
Program, Concert
Cast:
David Gilmour
Synopsis 45 years after Pink Floyd's David Gilmour filmed 'Live At Pompeii' in the legendary Roman Amphitheatre there, he returned for two spectacular shows, part of his year-long tour in support of his No.1 album 'Rattle That Lock'. The performances were the first-ever rock concerts for an audience in the stone Roman amphitheatre, and, for two nights only, the 2,600 strong crowd stood exactly where gladiators would have fought in the first century AD.'David Gilmour Live At Pompeii' is an audio-visual spectacle, featuring lasers, pyrotechnics and a huge circular screen on which specially-created films complement selected songs, but paramount above all is the astonishing music and stellar performances from an all-star band. The show includes songs from throughout David's career, as well as many Pink Floyd classics, including 'One Of These Days', the only song that was also performed at the band's 1971 show.


Be among the first to see Star Wars: The Last Jedi at the 6pm Opening Night Fan Event. Fans will be treated with exclusive content, collectible cards, and a complimentary popcorn. Tickets for this are over 1/2 sold!