Blade Runner 2049: The IMAX 2D Experience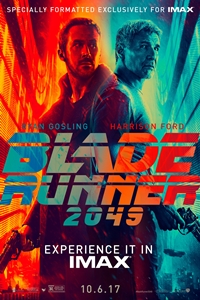 View Trailer
Release Date:
October 6th, 2017
MPAA Rating:
R
Runtime:
2 hr. 44 min.
Genres:
Action/Adventure, SciFi/Fantasy
Director:
Denis Villeneuve
Cast:
Ryan Gosling, Harrison Ford, Ana de Armas, Sylvia Hoeks
Synopsis Trent'anni dopo gli eventi del primo film, il nuovo Blade Runner 2049. L'agente K della Polizia di Los Angeles (Ryan Gosling) scopre un segreto sepolto da tempo che potrebbe far precipitare nel caos quello che e` rimasto della societa`. La scoperta di K lo spinge verso la ricerca di Rick Deckard (Harrison Ford), un ex- blade runner della polizia di Los Angeles sparito nel nulla da 30 anni.


Be among the first to see Star Wars: The Last Jedi at the 6pm Opening Night Fan Event. Fans will be treated with exclusive content, collectible cards, and a complimentary popcorn. No passes or rain checks accepted. SOLD OUT!