Thank You For Your Service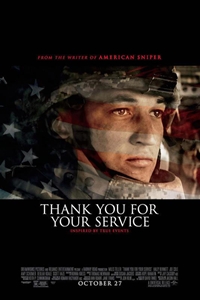 View Trailer
Release Date:
October 27th, 2017
MPAA Rating:
R
Runtime:
1 hr. 49 min.
Genres:
Drama
Director:
Jason Hall
Cast:
Haley Bennett, Amy Schumer, Miles Teller, Joe Cole
Synopsis THANK YOU FOR YOUR SERVICE follows a group of U.S. soldiers returning from Iraq who struggle to integrate back into family and civilian life, while living with the memory of a war that threatens to destroy them long after they've left the battlefield.


Be among the first to see Star Wars: The Last Jedi at the 6pm Opening Night Fan Event. Fans will be treated with exclusive content, collectible cards, and a complimentary popcorn. No passes or rain checks accepted. SOLD OUT!