Do It Like An Hombre (Hazlo como hombre)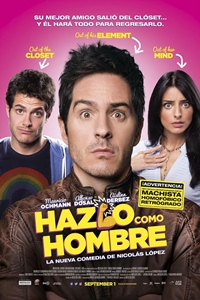 View Trailer
Release Date:
September 1st, 2017
MPAA Rating:
R
Runtime:
1 hr. 49 min.
Genres:
Comedy
Director:
Nicolás López
Cast:
Mauricio Ochmann, Alfonso Dosal, Humberto Busto, Aislinn Derbez
Synopsis HAZLO COMO HOMBRE is a comedy that follows the lives of two young couples who are not only in love - but best friends. One couple is married with a baby on the way - and the other is engaged. Their happy lives are turned upside down when the guy who is about to marry his best friend's sister discovers he's gay. Not only does his fiancée have trouble accepting the news - but his best friend refuses to believe it is true. Hilarity ensues as both men attempt to accept their new and very confusing lives.



Be among the first to see Star Wars: The Last Jedi at the 6pm Opening Night Fan Event. Fans will be treated with exclusive content, collectible cards, and a complimentary popcorn. No passes or rain checks accepted. SOLD OUT!