Marshall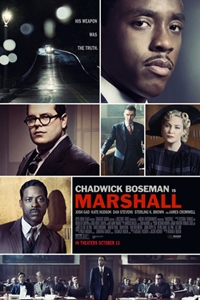 View Trailer
Release Date:
October 13th, 2017
MPAA Rating:
PG-13
Runtime:
1 hr. 58 min.
Genres:
Drama
Director:
Reginald Hudlin
Cast:
Dan Stevens, Kate Hudson, Josh Gad, Sterling K. Brown
Synopsis Long before he sat on the United States Supreme Court or claimed victory in Brown v. Board of Education, Thurgood Marshall (Chadwick Boseman) was a young rabble-rousing attorney for the NAACP. The new motion picture, MARSHALL, is the true story of his greatest challenge in those early days - a fight he fought alongside attorney Sam Friedman (Josh Gad), a young lawyer with no experience in criminal law: the case of black chauffeur Joseph Spell (Sterling K. Brown), accused by his white employer, Eleanor Strubing (Kate Hudson), of sexual assault and attempted murder.


Be among the first to see Star Wars: The Last Jedi at the 6pm Opening Night Fan Event. Fans will be treated with exclusive content, collectible cards, and a complimentary popcorn. No passes or rain checks accepted. SOLD OUT!