Wind River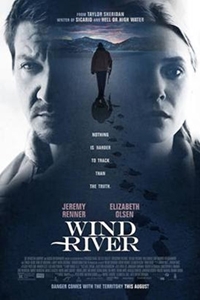 View Trailer
Release Date:
August 4th, 2017
MPAA Rating:
R
Runtime:
1 hr. 50 min.
Genres:
Suspense/Thriller
Director:
Taylor Sheridan
Cast:
Martin Sensmeier, Elizabeth Olsen, Jon Bernthal, Jeremy Renner
Synopsis WIND RIVER is a chilling thriller that follows a rookie FBI agent (Elizabeth Olsen) who teams up with a local game tracker with deep community ties and a haunted past (Jeremy Renner) to investigate the murder of a local girl on a remote Native American Reservation in the hopes of solving her mysterious death.


Be among the first to see Star Wars: The Last Jedi at the 6pm Opening Night Fan Event. Fans will be treated with exclusive content, collectible cards, and a complimentary popcorn. No passes or rain checks accepted. SOLD OUT!