Everything, Everything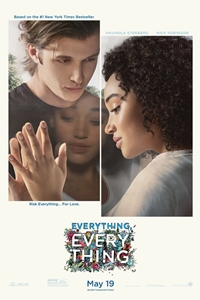 View Trailer
Release Date:
May 19th, 2017
MPAA Rating:
PG-13
Runtime:
1 hr. 36 min.
Genres:
Drama
Director:
Stella Meghie
Cast:
Ana de la Reguera, Taylor Hickson, Nick Robinson, Amandla Stenberg
Synopsis Maddy is desperate to experience the much more stimulating outside world, and the promise of her first romance. Gazing through windows and talking only through texts, she and Olly form a deep bond that leads them to risk everything to be together - even if it means losing everything.
TRANSFORMERS: THE LAST KNIGHT
COLLECTIBLE TIN BUCKET - $9
FREE REFILLS WHILE TRANSFORMERS: THE LAST KNIGHT IS PLAYING AT ST. MICHAEL CINEMA!