So B. It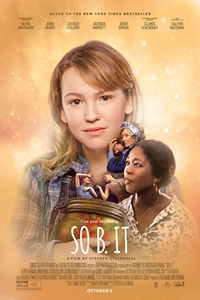 View Trailer
Release Date:
October 6th, 2017
MPAA Rating:
PG-13
Runtime:
1 hr. 38 min.
Genres:
Drama
Director:
Stephen Gyllenhaal
Cast:
Jacinda Barrett, Alfre Woodard, Cloris Leachman, Dash Mihok
Synopsis For as long as Heidi can remember, her mentally challenged mother has had only 22 words in her vocabulary. And that's fine with the precocious 12 year-old. She and Mama live happily, in the bubble of love and protection provided by their remarkable neighbor, the nurturing but agoraphobic Bernadette. Then one day a new word pops out of Mama's mouth - the mysterious "soof" - and it changes everything. Heidi is propelled on a solo cross-country journey of discovery and loss, truth and identity. Secrets boil to the surface, long-hidden fears are faced, and Heidi finally learns who she is and where she and her childlike Mama came from.


Be among the first to see Star Wars: The Last Jedi at the 6pm Opening Night Fan Event. Fans will be treated with exclusive content, collectible cards, and a complimentary popcorn. No passes or rain checks accepted. SOLD OUT!