Leap! (Ballerina)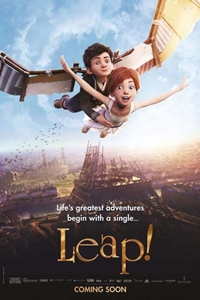 View Trailer
Release Date:
August 30th, 2017
MPAA Rating:
PG
Runtime:
1 hr. 29 min.
Genres:
Animation
Director:
Eric Summer, Éric Warin
Cast:
Elle Fanning, Dane DeHaan, Maddie Ziegler, Carly Rae Jepsen
Synopsis Paris, 1884. A orphaned girl arrives in Paris from Brittany. Félicie Milliner is 11 and has no money but one big, passionate dream: to become a dancer. With nothing left to lose, Félicie takes a big risk: she 'borrows' a spoiled brats identity and enters the Opera Ballet School. But how long can she be someone else? Mentored by the tough and mysterious cleaner, Odette , Félicie learns that talent is not enough - it takes hard work to be better than her ruthless, conniving fellow students. That and friendship. Felicie's inventive, exhausting and charismatic best friend Victor also has a dream: becoming a famous inventor. Together, they both encourage each other to reach for the stars.
TRANSFORMERS: THE LAST KNIGHT
COLLECTIBLE TIN BUCKET - $9
FREE REFILLS WHILE TRANSFORMERS: THE LAST KNIGHT IS PLAYING AT ST. MICHAEL CINEMA!