King Arthur: Legend of the Sword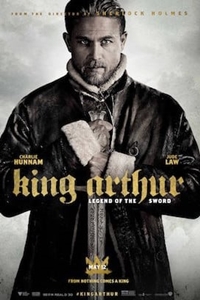 View Trailer
Release Date:
May 12th, 2017
MPAA Rating:
PG-13
Runtime:
2 hr. 6 min.
Genres:
Action/Adventure, Drama
Director:
Guy Ritchie
Cast:
Charlie Hunnam, Astrid Bergès-Frisbey, Djimon Hounsou, Aidan Gillen
Synopsis When the child Arthur's father is murdered, Vortigern, Arthur's uncle, seizes the crown. Robbed of his birthright and with no idea who he truly is, Arthur comes up the hard way in the back alleys of the city. But once he pulls the sword from the stone, his life is turned upside down and he is forced to acknowledge his true legacy - whether he likes it or not.

Be among the first to see Star Wars: The Last Jedi at the 6pm Opening Night Fan Event. Fans will be treated with exclusive content, collectible cards, and a complimentary popcorn. Tickets for this are over 1/2 sold!