Only the Brave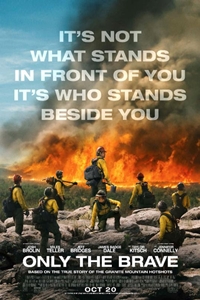 View Trailer
Release Date:
October 14th, 2017
MPAA Rating:
PG-13
Runtime:
2 hr. 14 min.
Genres:
Drama
Director:
Joseph Kosinski
Cast:
Jennifer Connelly, Miles Teller, Taylor Kitsch, Josh Brolin
Synopsis All men are created equal... then, a few become firefighters. Only the Brave, based on the true story of the Granite Mountain Hotshots, is the heroic story of one unit of local firefighters that through hope, determination, sacrifice, and the drive to protect families, communities, and our country become one of the most elite firefighting teams in the country. As most of us run from danger, they run toward it - they watch over our lives, our homes, everything we hold dear, as they forge a unique brotherhood that comes into focus with one fateful fire.


Be among the first to see Star Wars: The Last Jedi at the 6pm Opening Night Fan Event. Fans will be treated with exclusive content, collectible cards, and a complimentary popcorn. No passes or rain checks accepted. SOLD OUT!