Snatched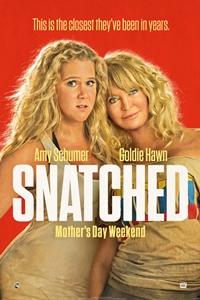 View Trailer
Release Date:
May 12th, 2017
MPAA Rating:
R
Runtime:
1 hr. 31 min.
Genres:
Comedy
Director:
Jonathan Levine
Cast:
Amy Schumer, Goldie Hawn, Joan Cusack, Ike Barinholtz
Synopsis After her boyfriend dumps her on the eve of their exotic vacation, impetuous dreamer Emily Middleton persuades her ultra-cautious mother, Linda to travel with her to paradise. Polar opposites, Emily and Linda realize that working through their differences as mother and daughter - in unpredictable, hilarious fashion - is the only way to escape the wildly outrageous jungle adventure they have fallen into.

Be among the first to see Star Wars: The Last Jedi at the 6pm Opening Night Fan Event. Fans will be treated with exclusive content, collectible cards, and a complimentary popcorn. Tickets for this are over 1/2 sold!