Jurassic World: Fallen Kingdom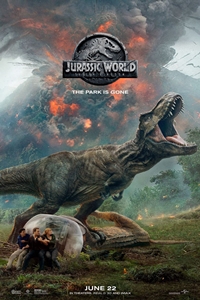 View Trailer
Release Date:
June 22nd, 2018
MPAA Rating:
PG-13
Runtime not available
Genres:
Action/Adventure
Director:
J.A. Bayona
Cast:
Chris Pratt, Bryce Dallas Howard, James Cromwell, Ted Levine
Synopsis With all of the wonder, adventure and thrills synonymous with one of the most popular and successful franchises in cinema history, this all-new motion-picture event sees the return of favorite characters and dinosaurs... along with new breeds more awe-inspiring and terrifying than ever before. Welcome to JURASSIC WORLD: FALLEN KINGDOM.