Valerian and the City of a Thousand Planets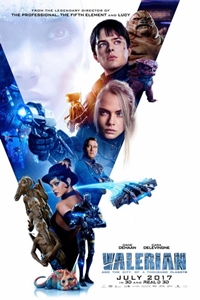 View Trailer
Release Date:
July 21st, 2017
MPAA Rating:
PG-13
Runtime:
2 hr. 17 min.
Genres:
Action/Adventure
Director:
Luc Besson
Cast:
Dane DeHaan, Cara Delevingne, Clive Owen, Rihanna
Synopsis In the 28th century, Valerian and Laureline are a team of special operatives charged with maintaining order throughout the human territories. Under assignment from the Minister of Defense, the two embark on a mission to the astonishing city of Alpha - an ever-expanding metropolis where species from all over the universe have converged over centuries to share knowledge, intelligence and cultures with each other. There is a mystery at the center of Alpha, a dark force which threatens the peaceful existence of the City of a Thousand Planets, and Valerian and Laureline must race to identify the marauding menace and safeguard not just Alpha, but the future of the universe.


Be among the first to see Star Wars: The Last Jedi at the 6pm Opening Night Fan Event. Fans will be treated with exclusive content, collectible cards, and a complimentary popcorn. No passes or rain checks accepted. SOLD OUT!