Same Kind of Different as Me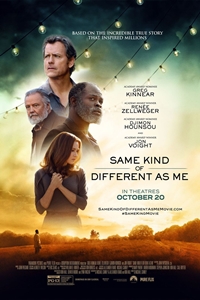 View Trailer
Release Date:
October 20th, 2017
MPAA Rating:
PG-13
Runtime:
1 hr. 59 min.
Genres:
Drama
Director:
Michael Carney
Cast:
Renée Zellweger, Djimon Hounsou, Jon Voight, Greg Kinnear
Synopsis "SAME KIND OF DIFFERENT AS ME" is the story of an international art dealer Ron Hall who must befriend a dangerous homeless man in order to save his struggling marriage to his wife, a woman whose dreams will lead all three of them on the most remarkable journey of their lives. Voight plays Hall's father, with whom he reconciles thanks to the revelations of his new life.


Be among the first to see Star Wars: The Last Jedi at the 6pm Opening Night Fan Event. Fans will be treated with exclusive content, collectible cards, and a complimentary popcorn. No passes or rain checks accepted. SOLD OUT!