The Greatest Showman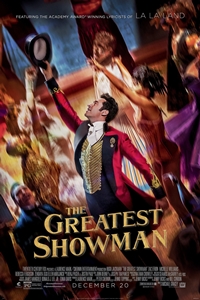 View Trailer
Release Date:
December 25th, 2017
Runtime not available
Genres:
Musical, Drama
Director:
Michael Gracey
Cast:
Hugh Jackman, Zac Efron, Michelle Williams, Rebecca Ferguson
Synopsis "The Greatest Showman" is a bold and original musical that celebrates the birth of show business and the sense of wonder we feel when dreams come to life. Inspired by the ambition and imagination of P.T. Barnum, The Greatest Showman tells the story of a visionary who rose from nothing to create a mesmerizing spectacle that became a worldwide sensation.


Be among the first to see Star Wars: The Last Jedi at the 6pm Opening Night Fan Event. Fans will be treated with exclusive content, collectible cards, and a complimentary popcorn. No passes or rain checks accepted. SOLD OUT!