The Nut Job 2: Nutty By Nature in 3D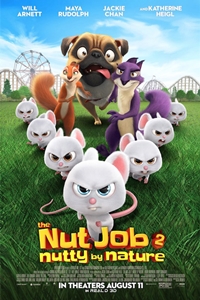 Release Date:
August 11th, 2017
MPAA Rating:
NR
Runtime:
1 hr. 25 min.
Genres:
Animation
Director:
Peter Lepeniotis
Cast:
Will Arnett, Brendan Fraser, Liam Neeson, Katherine Heigl
Synopsis Surly Squirrel (Will Arnett) and the gang are back. We are once again in Oakton where the evil mayor has decided to bulldoze Liberty Park and build a dangerous amusement park in its place. Surly and his ragtag group of animal friends band together to save their home, defeat the mayor, and take back the park.
TRANSFORMERS: THE LAST KNIGHT
COLLECTIBLE TIN BUCKET - $9
FREE REFILLS WHILE TRANSFORMERS: THE LAST KNIGHT IS PLAYING AT ST. MICHAEL CINEMA!